Meet Dr. Guntaas Gill at Mediworks Rejuvenation Centre in South Surrey BC, and Burnaby BC
Dr. Guntaas Gill specializes in naturopathic medicine at Mediworks Rejuvenation Centre. For more information call us or make an appointment.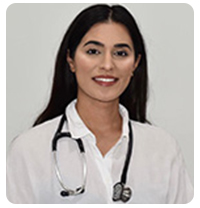 Dr. Guntaas Gill
I am Dr. Guntaas Gill, a licensed naturopathic physician practicing at Mediworks Rejuvenation Centre. I graduated from the Boucher Institute of Naturopathic Medicine. Prior to my naturopathic medical training, I received my Bachelor of Science in Biology from the University of the Fraser Valley, in Abbotsford. A keen interest in medicine and passion to help people drove me into the career of naturopathic medicine. I am an active member of the British Columbia Naturopathic Association (BCNA), College of Naturopathic Physicians of British Columbia (CNPBC), and Canadian Association of Naturopathic Doctors (CAND).
I have received extensive training in counseling, nutraceuticals, acupuncture, herbal therapies, and pharmaceutical prescribing. I address all health concerns as a primary health care provider, and have a keen interest in the following:
Hormonal health
Female wellness
Autoimmune conditions
Corporate wellness
My passion for medicine drives me to educate patients about their health. Each treatment plan is tailored to my patient's health concerns in order to optimize their health.