Meet Dr. Badesha at Mediworks Rejuvenation Centre in South Surrey BC and Burnaby BC
Dr. Badesha specializes in Naturopathic Medicine. For more information call us or make an appointment.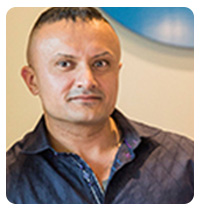 Naturopathic Physician Vancouver: Dr. Navi Badesha
Background:
Dr. Badesha earned his doctorate of Naturopathic Medicine from the Boucher Institute of Naturopathic Medicine in 2003. Prior to his doctoral studies he studied animal biology at the University of British Columbia in Vancouver, B.C.
Philosophy:
Dr. Badesha believes that commitment to one's health is essential for achieving and maintaining optimal wellness. His responsibility is to help patients realize their physical, emotional, mental and spiritual potential by blending the art of natural therapeutics with modern medical science. Dr. Badesha believes that it's immensely important to continue to educate yourself in order to improve your understanding and skills. He considers himself to be a perpetual student of life and medicine. Dr. Badesha strives to provide the best, most appropriate, and above all the most honest and ethical advice to each patient.
Practice:
Dr. Badesha operates a general practice with an emphasis on Aesthetics, IV therapy and pain management. Dr. Badesha is dedicated to helping all of his patients achieve the most radiant, youthful, and natural appearance possible. He is known for his amazingly natural results. By combining over 15 years of Naturopathic medical experience with the highest level of artistry, Dr. Badesha offers customized non-surgical facial procedures within the field of aesthetic medicine.
Certifications:
CNPBC Board Certified Advanced Injection Therapies: Prolotherapy
CNPBC Board certified IV & Chelation Therapy
CNPBC Board certified Aesthetic Procedures: Botox/Dysport/Xeomin
CNPBC Board certified Aesthetic Procedures: Dermal fillers
CNPBC Board certified Aesthetic Procedures: PRP Facial & Hair Restoration treatments
Prescriptive Authority
Professional Affiliations:
British Columbia Naturopathic Association
College of Naturopathic Physicians of British Columbia
Canadian Association of Naturopathic Doctors
International Association for Physicians in Aesthetic Medicine